GIVE MORE CHANCE TO YOUR PROJECT IDEA
Give more chance to your project idea – Steps towards the issueance of the Letter of Recommendation
Letter of recommendation (LoR) can serve as an additional added value towards the positive assessment of your project ideas. Colleagues of the priority area on 'environmental risks' developed a brochure, which summarizes the procedure of the submission/issuance of the LoRs.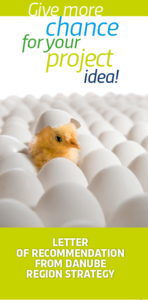 Give more chance to your project idea and download the
brochure and related files to get Letter of Recommendation
to the next call fro proopsal!