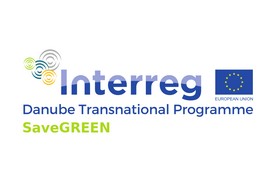 SAVEGREEN Safeguarding the functionality of transnationally important ecological corridors in the Danube basin
Many valuable ecological corridors of the Carpathian and other mountain ranges in the Danube region are impeded or threatened by economic development such as linear transport infrastructure construction or intensive agricultural, forestry, or water management practices. The reason for this conflict is that they are not sufficiently planned with the goal to maintain ecological connectivity and flow of multiple ecosystem services that these Green Infrastructure elements provide. Mitigation measures such as green bridges are often missing or dysfunctional because of inadequate design, location and inappropriate management of surrounding land use. The impacts are traffic-kills and lowered reproductive success of key species dependent on functional corridors.
The project SaveGREEN aims to demonstrate ways of designing appropriate mitigation measures and maintaining or improving the functionality of ecological corridors through integrated planning. It thereby builds on key results of the DTP projects TRANSGREEN, ConnectGREEN, and HARMON. Monitoring the impact of such measures will help us to learn and derive proper recommendations for follow-up action and policy design. The focus of the project will be on critical ecological corridors of the Alpine-Carpathian Corridor, SW-Carpathians, Zakarpattia, Beskydy, Lyulin and Balkan mountains impacted by linear transport projects and unsustainable land use.
Basic information
Start date: 01-07-2020
End date: 31-12-2022
Budget in Euro: Overall: 2.681.728,7
ERDF Contribution: 2.279.469,36
Priority: Environment and culture responsible Danube region
Specific objective: Foster the restoration and management of ecological corridors
More information is available via the following website: DTP-SAVEGREEN