VISIT OF A BOSNIAN WATER EXPERT IN HUNGARY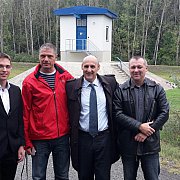 The expert of Bosnia-Hercegovina visited Hungary between the 21st September and the 6th October, and participated in a professional programme on water management, flood protection and damage control.
The programme was organized by the Priority Area 4 and 5, with the coordination of the Hungarian National Coordination for the EUSDR. In the framework of the programme the expert visited the Budapest Waterworks and the South-Transdanubian Water Directorate. At the Budapest Waterworks he had the opportunity to see presentations on the water management, water clarification and drinking water supply system of Budapest, and visit a water reservoir. During his visit at the South-Transdanubian Water Directorate heto participated on field trips to the Lake Balaton and Lake Velence, where the water management and water quality measurement systems were presented. Furthermore he visited the scene of the red sludge disaster in 2010.
The aim of such professional visits is to inform the non-EU members states about the Hungarian best practices in flood protection and water management, and the support their EU-integration. (The programme was financed by the International Development Cooperation Fund of Hungary.)