GRAPHIC VIDEOS ABOUT THE SUPPORTED DSPF PROJECTS
FINAL – NETWORKING EVENT event of DSPF
On the 31 October 2018 DSPF Networking event was held in Vienna City Hall in Austria.
DSPF (Danube Strategic Project Fund), is a facility aiming at supporting the implementation of transnational strategic projects aligned with the objective of the EU Strategy for the Danube Region (EUSDR), with a specific added value at the interfaces between cohesion and enlargement/neighbourhood policy (more: https://www.danube-capacitycooperation.eu/general-information-about-the-dspf).
The main objective of the event was to introduce the supported projects and project ideas and discuss about their strategic relevance from the Danube Region point of view.
In the frame of the event plenary, representatives of three priority areas, the European Commission, the EUSAIR (EU Strategy for the Adriatic and Ionian Region) and the Danube Strategy Point, as a renewed organisation of the EUSDR, introduced their statements.
The core part of the event was focusing on the introduction of the twelve projects, which were supported by the DSPF Fund. Two types of projects were introduced: six projects, which were preparing project proposals on strategic topics (initCOSEEREAIL, The Bridge, DANUBEHAZARD, CONSPIRO,  RONNI és EEII), and six projects, which were already implemented their project ideas (InterFlood Course, FarmCircle, I-VET, ELEDAN, DIY-ACCEL and SECCo2).
From the "water quality" priority area point of view the DANUBE HAZARD project has specific relevance. The Danube Hazard project (lead by the Karlsruher Institut für Technologie / Karlsruhe Institute of Technology (KIT),  fully correspond with the targets of priority area on water quality via facilitating the Danube River Basin Management Plan.
Within the Danube River Basin Management Plan four Significant Water Management Issues (SWMIs) have been identified, and one of those is focusing on the reduction of hazardous substances pollution. The current project idea is aiming at to model, monitor and manage the hazardous substances pollution within the Danube River and more over its also aims capacity building.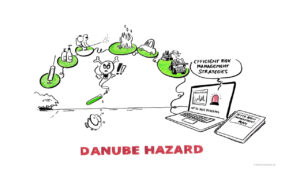 DSPF has created a graphic recording drawing visualizing the "DANUBE HAZARD" DSPF project – a preparatory project for "Fighting hazardous substances pollution in the Danube River Basin"
© freihand-zeichner.at
Further details about the event and information about the project ideas can be found in the following websites:
General information about the DSPF
DSPF Projects' leaflet and map
The graphic recording videos presented at the DSPF networking event in Vienna have been uploaded to YouTube and the the DSPF blog.
Have fun with the unique graphic videos, which give a good overview on the supported projects and projects' ideas! Don't miss to watch them!